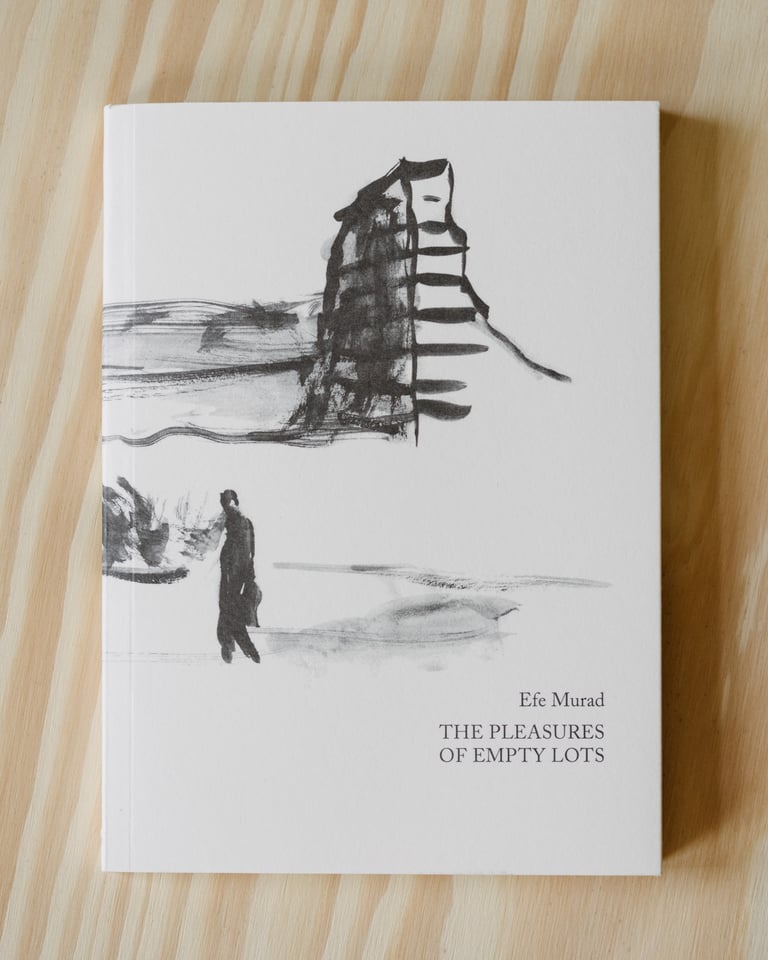 The Pleasures of Empty Lots by Efe Murad
The Pleasures of Empty Lots:
Scenes of Istanbul 2015–2016
Prose and poem fragments by Efe Murad
×
"I left Istanbul after graduating from high school, in 2006. It was only in July 2015, less than a year after Erdoğan assumed the presidency, that I found myself living in the city again full-time, to conduct manuscript research and improve my Classical Arabic reading skills. My parents' railroad apartment was a location where I lacked the liberty to edit my poems in peace and to cultivate the sense of 'poetic bewilderment' so beneficial to my practice. I therefore had to put on my shoes and abandon it."
And with that, poet Efe Murad sets off into the streets of his native Istanbul, wandering in search of empty benches, weedy lots, and myrrh-scented subterranean shrines—gaps in the claustrophobic concrete, beyond the reach of the regime and the police, where a young poet with his pockets full of inky drafts is free to sip a can of beer and puff like a magic dragon. Finally, at the end of a dead-end overlooking the sea, Efe finds a spot where he can edit his visceral verse in something like peace as the sun sets, a coup brews, and jellyfish accumulate off the coast of Kadıköy.
×
2021
Edition of 400
56 pages, paperback, 12×17 cm, b&w offset, sewn & glued
Printed on Arctic Munken Print Cream 115 and Pure Rough 300
Designed by Pilar Rojo
Cover painting by Can Aytekin
Poem fragments handwritten by Annabelle Binnerts
Includes a street map by Begüm Tanrıverdi Bölükbaş
×
Efe Murad was born and raised in Istanbul. He is the author of six books of poetry and the translator of six more, including the first complete translation of Ezra Pound's Cantos into Turkish; volumes by the American poets Susan Howe, Lyn Hejinian, and C. K. Williams; and, together with Sidney Wade, Silent Stones (Talisman House, 2017), a collection of poems by the Turkish modernist Melih Cevdet Anday, which was awarded the "Meral Divitçi Prize for Turkish Poetry in Translation." A scholar of Ottoman history and Islamic philosophy, he teaches history and religion at Wellesley College. His ongoing practice melds mystical experience, paleography, found footage, and soundscapes. An Organ of Quality, a cycle of poems (translated from the Turkish by Murat Nemet-Nejat), will be published by Bored Wolves in 2024.