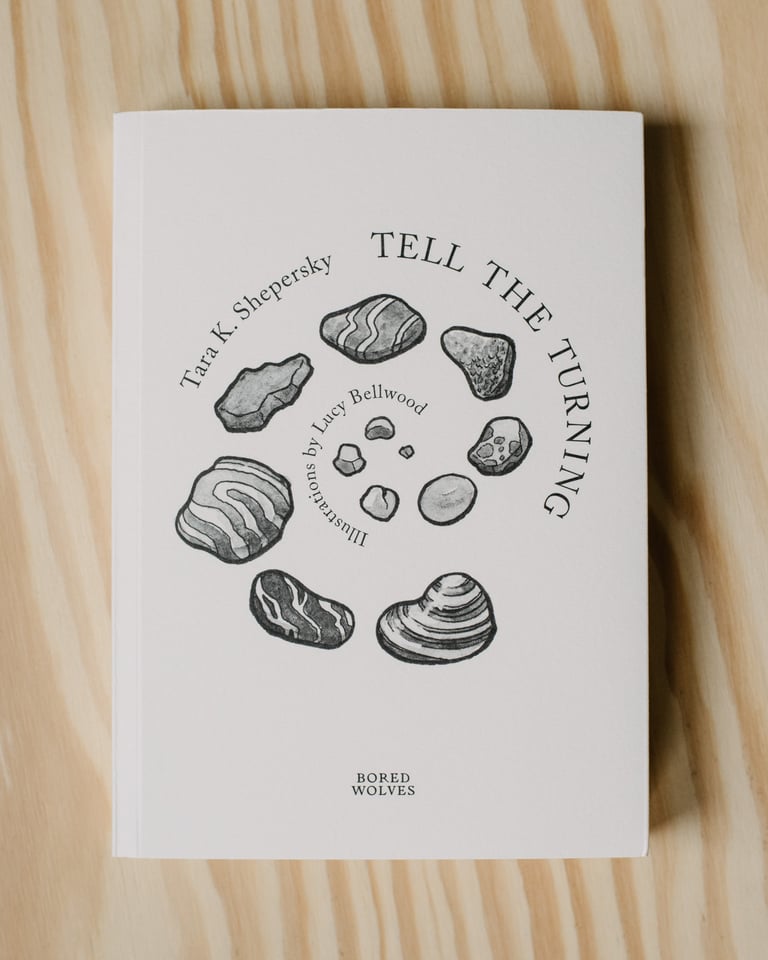 Tell the Turning by Tara K. Shepersky & Lucy Bellwood
Poems by Tara K. Shepersky
Drawings by Lucy Bellwood
×
I go to the fields and bow to the single hawthorn…
Sometimes a thought, or a whisper, or a dispatch, Tell the Turning unfolds as lyrical journal, hymnal, and almanac all rolled into one volume, with its three poem cycles interweaving thematic rhythms and threads.
It is an ambulatory archive, paced to poet Tara K. Shepersky's steps and treks along a stretch of the Pacific coast, from Oregon up to Washington and down to California. Then there's a circadian and seasonal rhythm, with Tara attuned to the tug of moon on tide and tide on poet; the balance (and present-day imbalance) of the seasons; and the slumbers and awakenings of the earth and its nonhuman inhabitants.
And there is the meter of Tara's language: shifting between melic lilt and consonantal clamber, inflected by stubborn disheartenment and equally stubborn inspiration, a need for solitude and a yearning for fellowship.
Throughout Tell the Turning, artist Lucy Bellwood's ink-and-wash illustrations both frame and join the poems. Lucy's gently exacting studies of flora and fauna, and her comfortably broken-in diorama landscapes, become a space for poet and artist to meet and compare notes as they set off on a quest for the everyday holy, with the independence afforded by true kinship.
×
2021
Edition of 500; 2nd printing of 500 (2022)
144 pages, paperback, 12×17 cm, b&w offset, sewn & glued
Printed on Arctic Munken Print Cream 115 and Pure Rough 300
Designed by Pilar Rojo, cover with Damian Nowak
×
Tara K. Shepersky is a poet, essayist, and contemplative walker based in Oregon's Willamette Valley. Her roving guides her practice, with poems unfolding across place and season.
Lucy Bellwood was raised between the chaparral of California and the hedgerows of Cambridge. An adventure cartoonist, she chronicles her escapades in words and pictures.
Tell the Turning is the result of Tara and Lucy's year-long collaboration with Bored Wolves.
Also by Tara and Lucy from Bored Wolves: Serpentine
×
Two poems from Tell the Turning:
Spell for Winter Turning
Storm-sent
storm-scent
promises
tree-tatter:
bring us
field-flatten
break-bracken
beckon blackbird
to seed-scatter.
Cloud-chase
set river running
making off
with maple-mottle;
harried hazel
light your leaves
and bid them
burning
tell the turning.
×
Role Model
Imagine I said I wish to live
as a bank of Nootka roses.
Catching breaths equally
with my thicket of thin curved daggers,
my swooning scent.
Showing off my hips in winter,
round or wrinkled, sun-cupped,
bitter, exactly what you need.
Sinking my feet strong
in salty marshes, limbering my skin
to ocean's whisper.
Imagine I am planted here, beautiful
and sharpening my knives.
▵
(Listen to "Role Model" read out loud by Molly Lewis.)
▵
You can also listen to a few more poems from the collection here, here, and here (headphones recommended).
×
Tell the Turning in Tara's words:
"Tell the Turning began as a fellowship of imaginary friends. I dreamed them up to companion specific moments that felt either too difficult or too beautiful to bear alone.
Some of these are threshold moments: small and daily, or big and complex—seasons in their own right. A lonesome sunset far from home. A diagnosis. The leaching of daylight from a sky full of winter stars.
Some are moments where I needed a pause button, a way to teach myself: 'Yes. You are here, present to the utter wonder of this life.' I composed these poems both in and with several specific landscapes. If you know these landscapes, you might recognize them. But you don't have to. I think you can still hear echoes from the landscapes, the seasons, and maybe the tides of your own heart.
My hope is that Tell the Turning can be a fellowship for you, too."