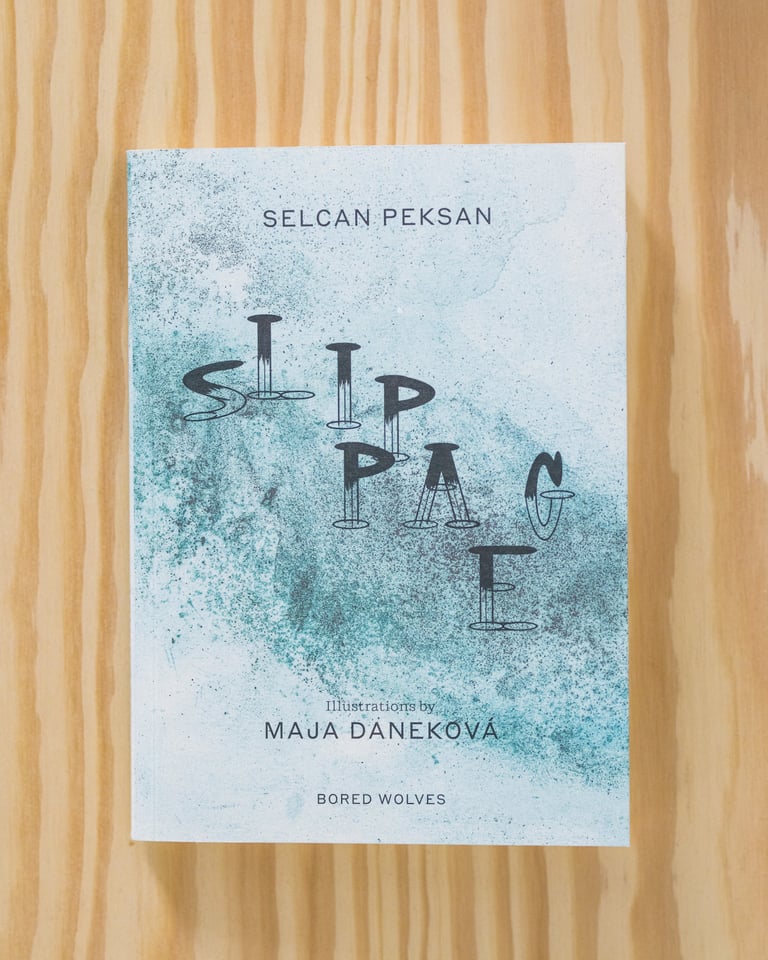 Slippage by Selcan Peksan & Maja Daneková
Poems by Selcan Peksan
Drawings by Maja Daneková
×
One day we longed for the sun.
Sixty minutes into planetary lockdown, as gas clouds flare diabolically across the horizon, a burst pipe floods Selcan Peksan's Istanbul apartment. Encircled by notebooks and companioned by her beloved German shepherd, the poet seeks to transcend claustrophobia and eco-anxiety by envisioning a future unpeopled planet supporting novel mutations of non-human life.
Come Lockdown Year Five, the subterranean rumbles of resurgent nature coalesce into a riotous carpet of overgrowth subsuming "virtually all signs of human civilization." But as trees begin to uprise, gyrate, and parade, the poet, having outlined a deposition of the worst trespasses of industrialized society, feels comfortable at last:
This is my garden; this is my playground.
Pacing Slippage's relentless plunge through ensuing eons, artist Maja Daneková generates atmospheres backdropping Peksan's lyric excursion beyond the Anthropocene to the dawn of a neo-primeval.
×
2022
Edition of 400
Translated, from the Turkish, by Anna Wood
112 pages, 12×17 cm, color offset, sewn & glued
Printed on Arctic Munken Print Cream 115 and Pure Rough 300
Designed by Damian Nowak
×
Selcan Peksan is a poet, researcher, and bassist. She is the author of three poetry collections in Turkish: Mağara Vardır (160. Kilometre, 2015; English edition, There Is a Cave, is being developed by Bored Wolves); the original edition of Slippage, İnsandan Sonra [After Humans] (Nod, 2020); and Bitki Kökleri, İnsan Avı (Everest, 2021); and is a founding editor of the Turkish poetry journal Moero. She lives in Istanbul with Maya, her German shepherd.
Maja Daneková is a Slovakian artist based in Pilsen (CZ). In her graphic practice she works with traditional printing techniques, in particular lithography, while also illustrating across mediums, experimenting with unconventionally large formats and creating artist's books tackling social themes, comics, and children's picture books.