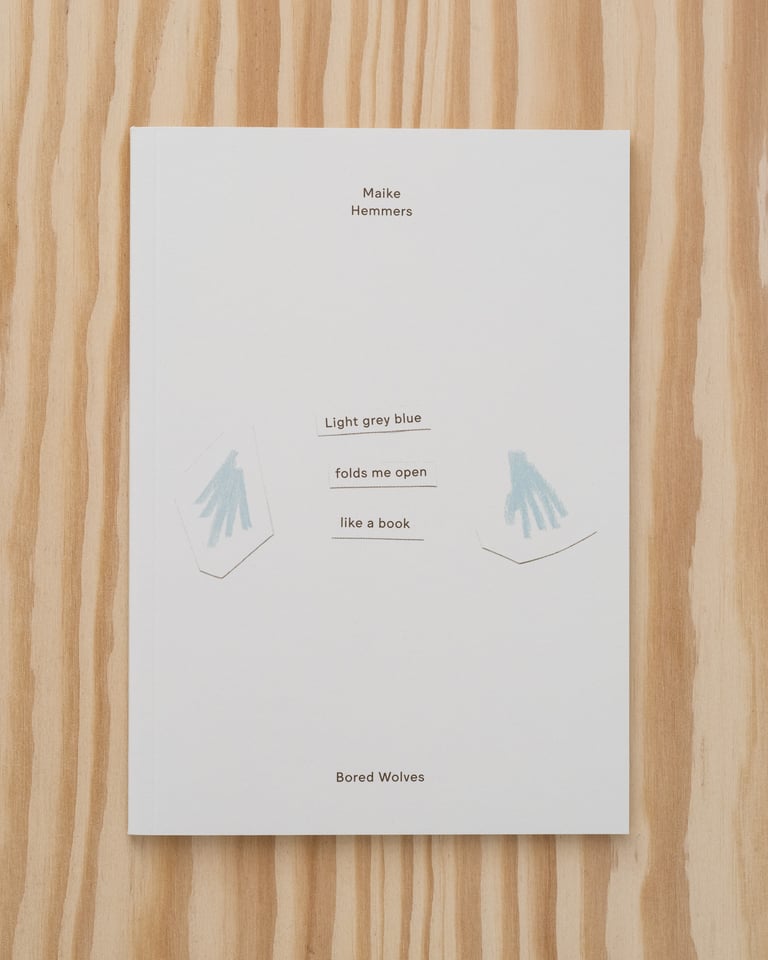 Light grey blue folds me open like a book by Maike Hemmers
Drawings and text by Maike Hemmers
×
Dark brown darkened room in summer, / fresh and calm, life and sound are close
The drawings and text in Light grey blue folds me open like a book stem from artist Maike Hemmers' practice of mental body scans in which, via an introspection both mellow and attuned, she notes down felt colors in each body limb as well as their associations. The color body scans are the start of a process that leads toward large-scale pastel drawings—chromatic-somatic mappings of the self from organ to bone.
Composed and edited, with haptic lovecraft, by Yin Yin Wong, Light grey blue folds me open like a book intuitively takes these layers apart to weave them together again into a singular poetic narrative and exploration of the body as reservoir of elemental awareness.
Dark green throat speaks from the leaf in motion. / Purple breath connects to the hips / and the soul muscle, / tightness wants expansion. / Red heart, I am a loving determination.
×
Listen to Maike read an extract from Light grey blue folds me open like a book.
×
2022
Edition of 400
32 pages, paperback, 12×17 cm, color offset, sewn & glued
Printed on Arctic Munken Print Cream 115 and Pure Rough 170
Edited and designed by Yin Yin Wong
×
Maike Hemmers (b. 1987, Germany) is an artist based in Rotterdam. Her research reflects on the affective relation of bodies and inner spaces through drawing, text, and everyday art objects. With an interest in feminist architecture, soft resistance, and queer directions, her work explores intuitive material relations, channeling spiritual and somatic practices in a process of self-examination shaping embodied consciousness.
The spring 2022 publication of Light grey blue folds me open like a book was published in parallel with Maike's Kunstinstituut Melly exhibition, This Deep Becomes Palpable.