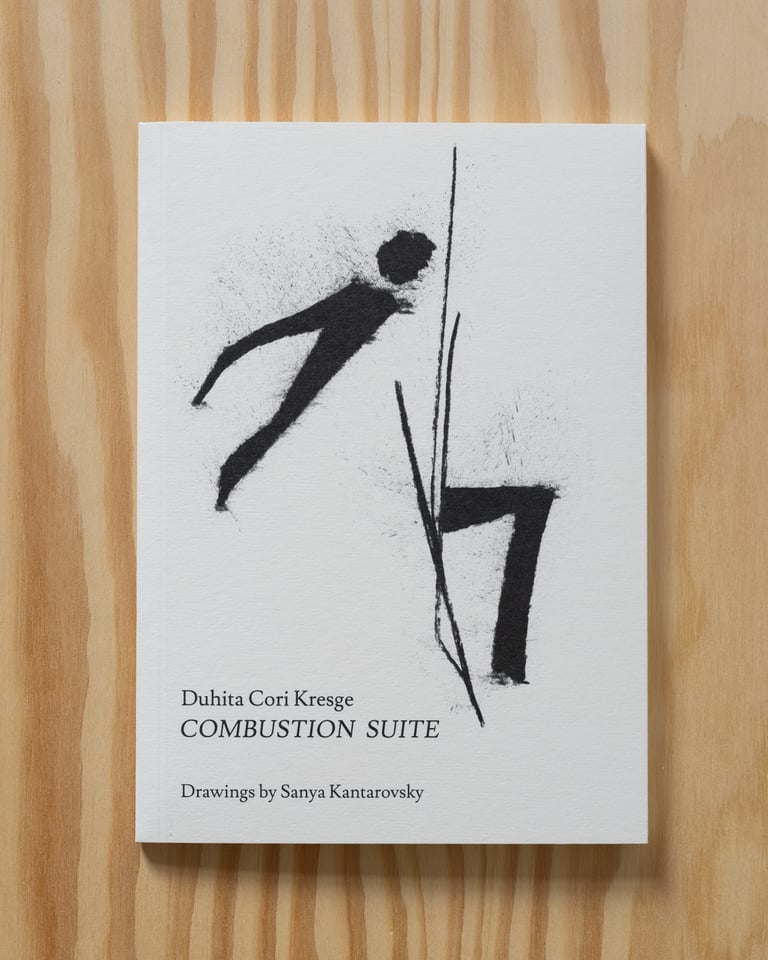 Combustion Suite by Duhita Cori Kresge & Sanya Kantarovsky
Poems by Duhita Cori Kresge
Drawings by Sanya Kantarovsky
×
"After I perform a dance, I write a poem. This is my most truthful account of that experience," begins dance artist and poet Duhita Cori Kresge. However, she caveats, "Dance time has its own elusive logic. It seems that when I dance I am not me. I am emptied. I become an observer, a satellite, an animal, an oracle, a current, a lens. I can only try to tell you what happened."
In Combustion Suite, Kresge plumbs a series of metamorphic performances, shedding her body's "word-skin" as she reveals the proscenium's feral fringes in cycles of shapeshifting, lancing, blazing, keening, and surfacing.
Combustion Suite doubles as rekindled refraction of Combustion, a piece by choreographer Wendy Osserman—Kresge's "dance-mother" and kindred collaborator of decades—limited to a single performance due to the pandemic. The premature halt compelled Kresge, one of its dancers, to summon these poems from the experiential ash in which they held their breath.
Hear Duhita Cori Kresge read "Trio in Forest," a poem from Combustion Suite.
×
2023
36 pages, paperback, 12×17 cm, b&w offset, sewn & glued
Printed on Arctic Munken Print Cream 115 and Pure Rough 300
Designed by Sevinç Çalhanoğlu
×
Duhita Cori Kresge is a writer, dance artist, choreographer, massage therapist, and teacher based in New York. Her monastic upbringing has impacted her writing and performing, which often explores themes of mysticism, skepticism, and fanaticism. She is the author of isn't devotion (No, Dear/Small Anchor Press, 2019).
The charcoal drawings in Combustion Suite were executed by artist Sanya Kantarovsky, a painter sympathetic to contortions of spirit and limb. Exhibited internationally, he is the subject of an upcoming monograph, Sanya Kantarovsky: Selected Works 2010–2023 (MIT Press/Aspen Art Museum).
The nexus for Kresge and Kantarovsky's collaboration is Wendy Osserman. Osserman is a choreographer and dancer who has always danced. She studied with Martha Graham and José Limón and performed with Kei Takei's Moving Earth, among others. Taking the political personally, she launched Wendy Osserman Dance in 1976.