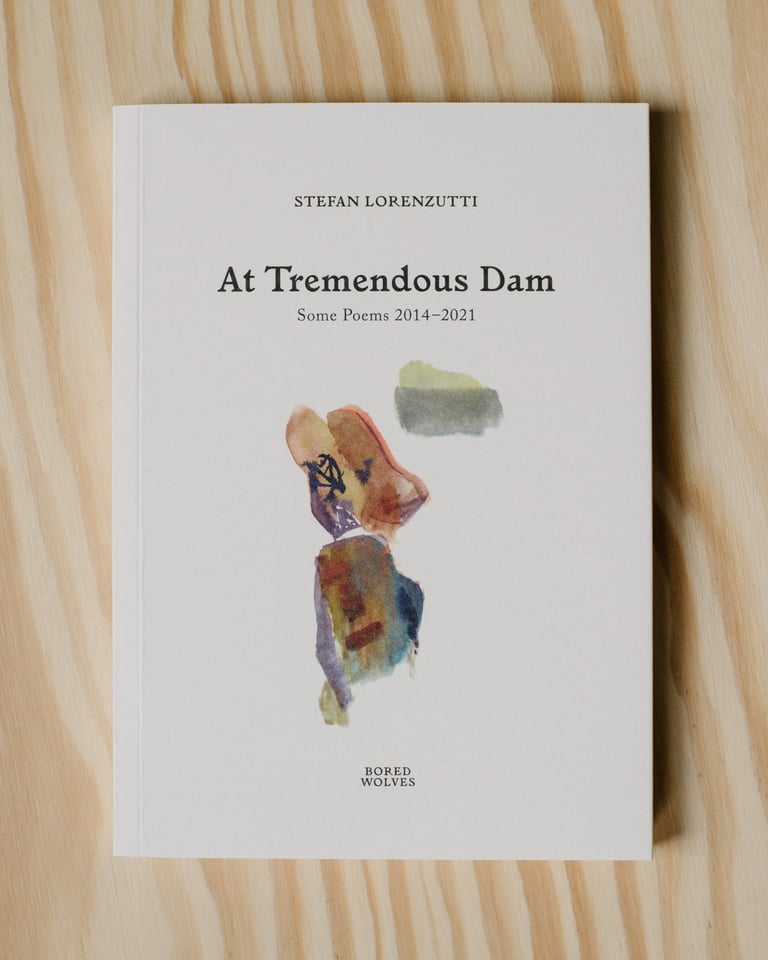 [AID FOR UKRAINE] At Tremendous Dam by Stefan Lorenzutti
At Tremendous Dam
Some Poems 2014–2021
Poems by Stefan Lorenzutti
×
Aid for Ukraine. We'll be donating all sales from this book to Voices of Children, "a Ukraine-based aid organization that provides psychological support to children who have witnessed war. It uses art therapy and storytelling to support children's well-being, and provides financial support to families who have suffered as a result of war." Voices of Children has been active in Ukraine's east since 2014, when Ukraine was first invaded, and has since expanded its endeavors to the entire country.
×
"Lorenzutti's poems share some of the qualities I've come to associate with [Bored Wolves'] lively, unpredictable list: an attentiveness to the intense colors, atmospheric conditions, textures and materials of everyday life; strange new precisions that give way to humor then unexpected sites of vulnerability. These are poems that make life feel weird, abundant; basically unfathomable but definitely worth living."
—Kate Briggs, Fitzcarraldo Editions blog
"Stefan's poetry is real, direct, and to the heart. A joy."
—John Porcellino
×
We were living in the tall house in Bielsko. Asia's childhood home. Our bedroom was cozily up in the large attic space. Maya, who was four months old, woke up at midnight. I put down The Tombs of Atuan and began carrying her cuddled form back and forth along our habitual L-shaped route: straight along the length of the ironing board, then right-angle turn at the diamond-shaped window into the corner of the attic, then a practiced spin on the heel of my sock and back.
On one pass of the ironing board, before completing the base of the L, I stopped at the diamond window. The house's red metal roof was complicated and creased like an origami rendering of the Alps. The diamond window overlooked a foreshortened spur of roof ridge extending out into space. At that moment, a marten appeared on the ridge. It did a diagonal dash and disappeared over the edge of the roof.
Maya slept through it all.
×
2021
Edition of 400
80 pages, paperback, 12×17 cm, b&w offset, sewn & glued
Printed on Arctic Munken Print Cream 115 and Pure Rough 300
Designed by Pilar Rojo, cover with Damian Nowak
Cover painting by Olive Findlay
×
A sample of poems from At Tremendous Dam:
Cascading
While rinsing a mug acceptable
I hear Mayer Hillman emphasize
that reductions won't cut it: we must
stop burning fossil fuels entirely and
concentrate on music love education & joy
things that require fossil fuels hardly at all.
Silvia Federici seeks the regeneration of
a commons chained to Death's production.
I walk through wet grass post-storm
navy blue pants dampening to black
from shins up to hips my skeleton
is covered in seeds. Yesterday Nhatt
told me Cascadia's seasons are
mud / fire / spider / and snow.
×
The Keep
I am listening
in the space
between the car's return
from the village grocery
and the approaching storm
of which we were warned.
Triangulated are my nose,
the plum tree, the cistern.
Gravel is laid
to be displaced.
On the deck
raindrops hit
a castle of chalk.
×
When I Lived in Kraków
You knew the way to
your favorite bakery
en route to your favorite
lichened 1800s graveyard
where you never met
another living soul
& always felt at ease
underdressed but at 50°
▵